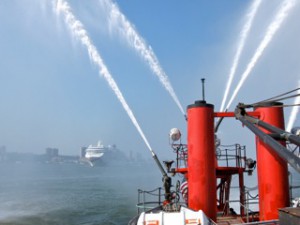 On Saturday, June 19, 350 children and adults rode the tugboat Cornell and the fireboat John J. Harvey during educational trips that highlighted the importance of historic ships, the history of the North River (the Lower Hudson) as a major shipping port, and the recent conversion of its piers into the world-class Hudson River Park.

Hundreds of visitors also toured the steam engines and crew quarters of the former U.S. Coast Guard lighthouse tender Lilac. Maritime historian Norman Brouwer gave talks about the Lilac's storied past.
The John J. Harvey saluted the cruise ship Norwegian Jewel as it headed down the Hudson.
 The tug Cornell offered three 45-minute educational trips, and the fireboat John J. Harvey, four. All trips and tours were free to the public. A grant from Manhattan Borough President Scott Stringer to Friends of Hudson River Park for historic ship programming funded the ship appearances.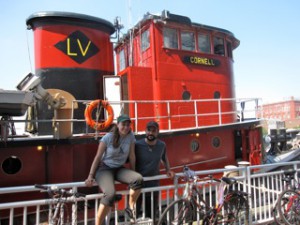 "This event did just what we wanted it to do," said Betsy Frawley Haggerty, president of the North River Historic Ship Society. "It drew hundreds of people to the park and the river and offered 350 people, half of them children, a chance to tour some wonderful old ships, get out onto the river, have some fun and learn about the importance of our waterways."
Captain Matt Perricone and crew Amy Bucciferro of the tug Cornell.
__________________________________________
Photos by Betsy Frawley Haggerty.